Know your fleet's every move. OnStar API is on it. 

Are your fleet drivers obeying the speed limit? Do your vehicles need maintenance or battery charge? Are drivers buckled up? Does anyone need coaching? OnStar® API/GM API has the data services you need to give you this information and much more. OnStar Business Solutions has partners that can help provide the level of fleet API your business needs. We know there's no one-size-fits-all solution, so we combine the integrity of embedded hardware with a wide array of telematics service providers and fleet management companies to meet your unique business needs.
What do you need to know about your fleet? Our partners have data services. 
From crash notifications to Vehicle Diagnostics to letting you know whether your drivers are buckled up, our partners can give you the info you need to help keep your fleet and drivers on track.

Provides insightful incident-related data from the vehicle, such as were there multiple points of impact; were the air bags deployed or safety belt pretensioners engaged; what was the maximum delta-v, vehicle direction upon impact and vehicle location; if the front passenger seat was occupied; and the time stamp from when the incident occurred.*

Receive diagnostic trouble code information for high-severity DTCs, including information such as description and recommended corrective action.

Provides charge state information, including charge start, abort and complete. When combined with the EV data, this information offers a comprehensive EV solution for fleets.

Provides information regarding an open service recall on the vehicle, including the NHTSA recall number, manufacturer recall number, recall description and safety risk description.

Reports hard braking, hard acceleration and driver safety belt information from the vehicle. The hard braking and hard acceleration events are triggered when the vehicle exceeds a predefined deceleration or acceleration threshold. Driver safety belt status is reported at ignition ON, at ignition OFF and anytime the driver safety belt status changes during the drive cycle (trip).

Gives fleet managers specific driving behavior event information, which helps to promote a strong safety culture. Drivers are verbally coached in real time through the vehicle's audio system so that they can quickly modify their behavior and develop better behind-the-wheel habits.*

Driver safety belt status
Passenger safety belt status
 Hard brake
Hard acceleration
 Posted speed
 Maximum speed
Get insight into a vehicle's location — as well as its odometer, tire pressure, fuel level and battery charge — at every ignition OFF from the time the vehicle has been shipped from the plant until the vehicle is delivered to the customer and an OnStar account is created.*

An API that allows the user to remotely enable or disable the vehicle's engine (subject to limitations).

Provides information — including vehicle location, speed, ignition status and diagnostics — from the vehicle at regular intervals. Electric vehicle (EV) equivalent info (battery level) is also available.*

Provides a notification when the vehicle anti-theft system is activated. This can be either a vehicle or content theft alert.*

A single discrete request from the user to perform specific remote vehicle commands, such as lock and unlock door(s), honk horn and flash lights, and remote start and stop. Also, the user can retrieve certain vehicle information, such as vehicle location, diagnostics and electric vehicle-charge information.

Provides the ability to remotely enable or disable the Wi-Fi® Hotspot as well as view and modify the SSID and password.*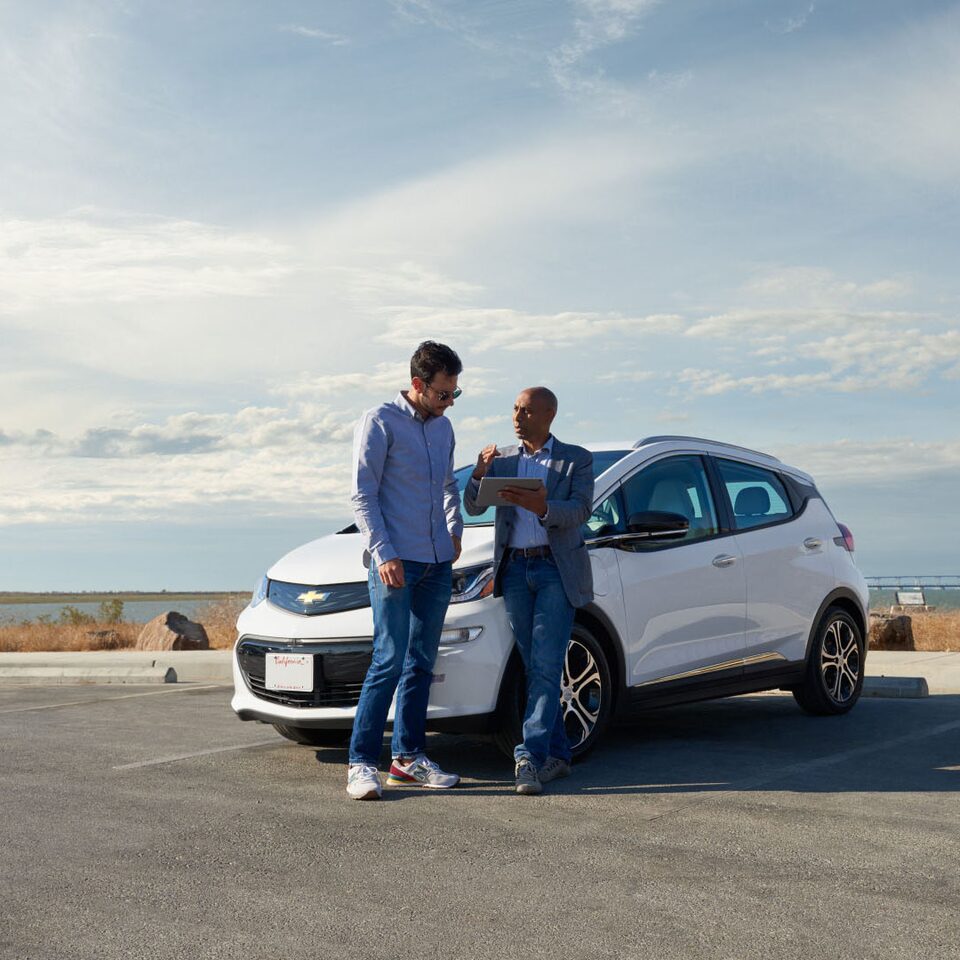 Meet one of our API providers 

Get a firsthand look at how the industry-leading expertise of one of our API providers and the cutting-edge technology of OnStar join forces to solve your business needs.

Your next move? Let's talk.

Your next move?
Let's talk.

Your OnStar Business Solutions representative is ready to bring the safety, confidence and data you need.