A powerful way to work together 

OnStar and public safety professionals have worked together since 1996. In that time, our world has seen amazing advances in mobile technology. We can now deliver key OnStar safety services in any vehicle, on a motorcycle, on the go and even at home with the OnStar Guardian®* app.

The OnStar Guardian app lets Members bring key safety services with them anywhere. 

Help in vehicles and on motorcycles 

The OnStar Guardian app uses a smartphone's built-in sensors to detect a crash — in any vehicle or on a motorcycle. The app's Mobile Crash Response feature, similar to the embedded OnStar system in Chevrolet, Buick, GMC and Cadillac vehicles, can alert an Advisor to a crash.

Help on the go 

OnStar goes beyond the vehicle by letting Members contact help using the Guardian app. The SOS button within the app connects to OnStar Emergency Advisors* who can triage the situation, contact the appropriate emergency communications center for assistance and, if needed, provide emergency medical dispatch.

Help at home

Anywhere Members have a compatible smart speaker, they will have a direct connection to an OnStar Emergency Advisor by saying "Alexa, call for help,"*  
How Mobile Crash Response works

When Mobile Crash Response alerts an OnStar Advisor, we contact an emergency communications center (ECC). At the same time, an OnStar Emergency Advisor is communicating with the crash victim. The way the OnStar Guardian app communicates after a crash depends on the device's operating system.

Android

*

devices: When a crash is detected, OnStar Guardian automatically connects to OnStar. An Emergency Advisor starts communicating with the Member over the phone's speaker or connected Bluetooth®

*

device.
Apple®

*

devices: When a crash is detected, OnStar Guardian automatically contacts OnStar. An Emergency Advisor will call the Member's phone to make a voice connection.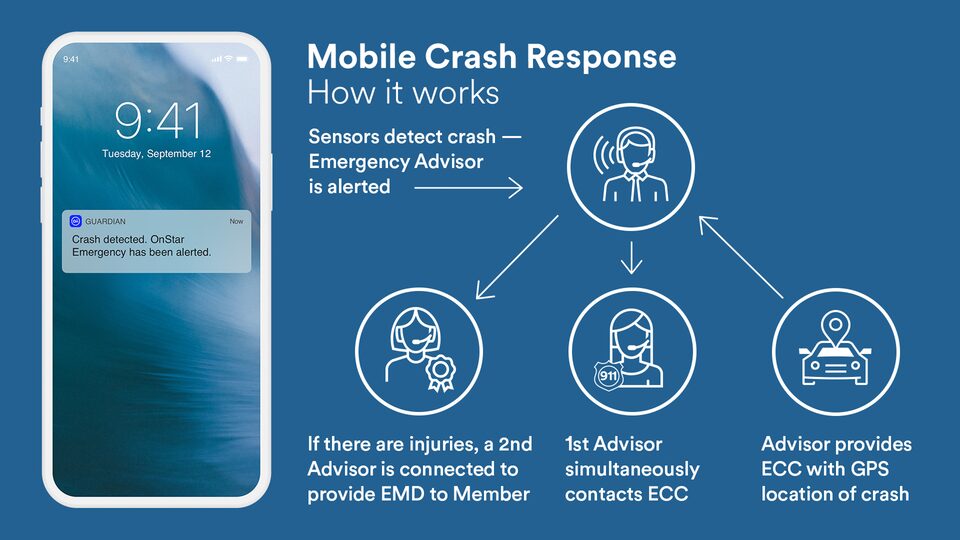 Preventing accidental activations 

What if someone drops their phone? Would that trigger a Mobile Crash Response? No. Here's why:
The app is ready to detect a crash once a vehicle is traveling at a threshold speed or higher — for a specific amount of time
OnStar Guardian is designed to recognize the unique pattern of a car or motorcycle crash
Extensive testing has been conducted, validating that the app's algorithm correctly identifies this unique crash pattern
When the phone sensors detect a crash, an Emergency Advisor is alerted
OnStar Advisors are trained to assess crash situations and determine which ones require ECC contact, helping mitigate the number of calls

How the OnStar Guardian skill works 

Using the OnStar Guardian skill for Amazon Alexa,* Members can say, "Alexa, call for help" and be connected to an OnStar Emergency Advisor who will confirm the location of the emergency, quickly triage and validate the situation, and use our proprietary database to contact the appropriate 911 center for assistance. ECCs will continue to receive all the same emergency expertise and assistance you've grown accustomed to from OnStar for years.

Unlike smartwatches and other "direct dial devices," which may place automated calls to an ECC without offering details or human interaction, the OnStar Guardian skill connects to a live Advisor for triage and validation. Accidental calls are screened out before 911 is contacted to avoid unnecessarily burdening call centers, especially when many are currently understaffed. The OnStar Guardian skill helps fill a vital role since FCC regulations prohibit smart speakers and voice assistants from calling 911 centers directly.