Wayne Stoeber bought a Cadillac so he could have Super Cruise technology, but he's been an OnStar fan for years

Wayne Stoeber loves cars and technology and figures he's probably spent the last dozen years telling friends about the OnStar features they could have if they bought GM vehicles. He's had plenty himself, mostly Chevrolets and Cadillacs. Currently, his fleet includes a 2022 Cadillac XT6.

When the temperatures tick upward in Texas, he turns to remote start* to cool his vehicle before he gets in. He regularly reaches for the OnStar button and uses Turn-by-Turn Navigation.* And he appreciates the ability, when he needs it, to get a real person to help him figure out where he's headed. "Very courteous and helpful," he says. Similarly nice: Vehicle Locate.* Because we all forget sometimes where we parked.

But the one feature that has him most excited is Super Cruise™*, which had his attention well before he owned a vehicle equipped with the technology. He'd read everything he could about the hands-free driver assistance technology and, being a fan of both the latest automotive innovations and General Motors vehicles, even put down a deposit to reserve an all-electric Cadillac LYRIQ.

While awaiting the LYRIQ, however, Stoeber picked up the XT6. "I really, really wanted Super Cruise," Stoeber says. "I have loved it ever since. I've got over 25,000 miles on the car." Many of those with Super Cruise engaged. The XT6 has more than 200,000 miles of Super Cruise-compatible roads available. One reason he's excited about the LYRIQ is it'll expand his options to more than 400,000 miles of compatible roads* and offer Automatic Lane Change.* That'll come in handy.

Take your road trip to the next level with these five roads that offer spectacular scenery along the way — even if you don't have Super Cruise.
Stoeber and his wife live near San Antonio, Texas, but they also keep tabs on a family farm about 50 miles from Des Moines, Iowa. That's roughly 1,000 miles each way. That drive, which they do a few times a year, is a big reason why Stoeber was so interested in Super Cruise.

He says it relieves some stress from those long drives. Both he and his wife feel better at the end of a full day on the road. "And it's fun," he says. As evidence, consider his granddaughter, who sometimes refers to the XT6 as the "Super Cruiser."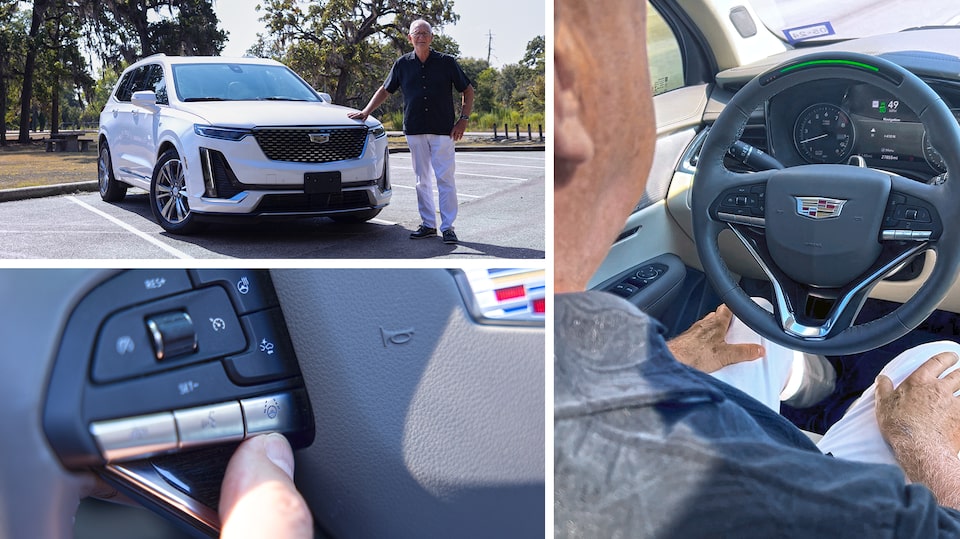 Super Cruise might be the latest OnStar technology to grab Stoeber's attention, but it's far from the only technology he enjoys. He also owns a Camaro SS (which took the spot of a Corvette), and between that vehicle and his XT6, he appreciates the ability to toggle between the myCadillac and myChevrolet mobile apps,* personalizing the settings for each vehicle.

But it's Super Cruise that Stoeber has come to love. That's as true on the freeways between Texas and Iowa as it is in stop-and-go traffic around San Antonio. "It's less tedious," Stoeber says of driving with Super Cruise activated. "I hate to use a term like 'relaxing,' because you still have to be alert, but you are a little more relaxed."