When summer ends and the leaves start changing colors, there's a new type of road trip for your agenda. Throughout October and November, many families set out to find pumpkin-themed festivals as they embrace the changing seasons. And when you have the safety and security of OnStar* on your side, you have added confidence to explore all that fall has to offer.
"Pumpkin patches, botanical gardens, zoos — many of them are now adding on pumpkin-themed events because of how popular it's become," says Marc Evan, co-founder of Brooklyn-based Maniac Pumpkin Carvers. "It's something that appeals to all ages and has a very seasonal allure to it, so it's easy to see why it's become so popular."
Evan and his business partner, Chris Soria, grew up loving everything about the Halloween season — haunted houses, scary movies — and carved pumpkins for fun. Over the years, they kept improving their techniques while making increasingly elaborate designs. Eventually, people took note and started requesting custom pumpkins for their events and businesses.
"We quickly had to put together a website and turn it from this nostalgic hobby into a full-time business," Evan says. "It really took off pretty fast."


Maniac Pumpkin Carvers has taken Evan all over the U.S. and Canada, where he offers live pumpkin carving demonstrations and provides custom-carved gourds for businesses, advertisements and even video shoots.
Searching for the best pumpkin displays can be a great way to get into the fall spirit. You and your family can likely find pumpkin-focused events and festivals nearby, from small pop-up events with amateur carvers to full-fledged festivals with professionals. This year, though, be sure to call ahead or check online first in case events have been canceled, take steps to help keep your family safer and be sure to observe any state or county rules about gatherings.
Many pumpkin festivals are in smaller towns, so you might want a helping hand figuring out directions to get there and back. That's where OnStar can help. With a paid Safety & Security Plan,* an OnStar Advisor can send Turn-by-Turn directions* to your destination right to your vehicle. And with a database of more than 14 million points of interest available, Advisors can also help you find anything from a recommended restaurant for lunch to a convenient place to fill up with gas, or just somewhere to stop for snacks on the drive home. While phone apps can be helpful for navigating, an Advisor's personal touch can make all the difference when you need directions in an unfamiliar area.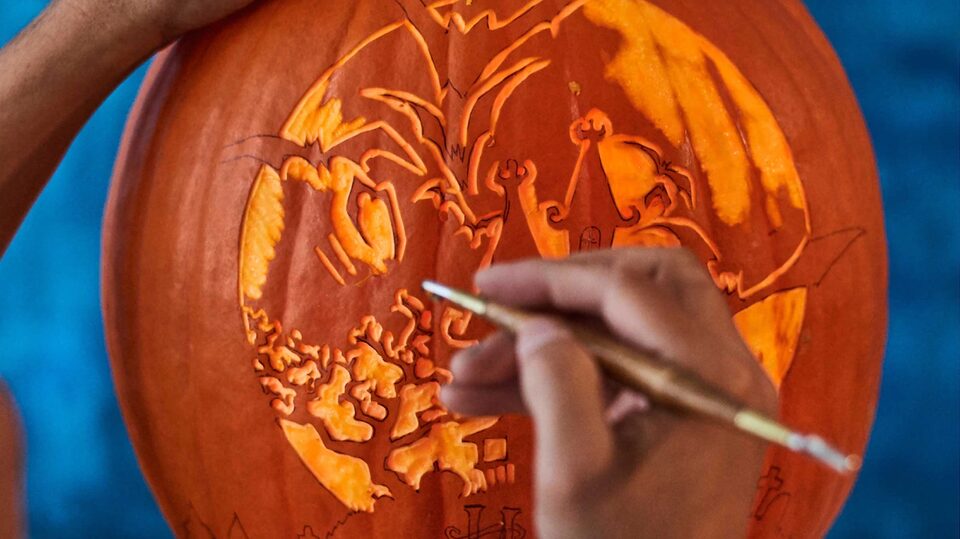 For Evan and Maniac Pumpkin Carvers, September through November is the busiest time of the year. During that time the team is often in the studio for as long as 15 hours per day.
"We've become so known for highly detailed, super-intricate work that a large amount of the pumpkins that we're carving now are six to eight hours of work," Evan says. "We've done some that have taken two days straight working on them to get them finished."
While people used to only be interested in spooky pumpkins for Halloween, Evan says he and his team have worked right up to Thanksgiving in recent years, with customers now looking for pumpkins throughout the fall for events like weddings.
"We really just wanted to make pumpkin carving cool for the whole fall season," he says. "We're not just carving the scary stuff — we're trying to do more decorative work."
When you're ready to get out there and explore some pumpkin-themed festivals, know that you can always get help finding unfamiliar addresses by pushing the blue OnStar button to ask an Advisor for directions. And if the unexpected happens along the way, Advisors are ready to help you 24/7.