There are three very important rules to follow when you live in the American Southwest. They all pertain to scorpions. Those venomous arachnid mini-monsters love to hang out in cool, dark, damp places, so remember:
1. Always peek under your pillows and fold your sheets back before getting into bed.
2. Turn your shoes upside down and knock them together before putting them on.
3. Remove clothing from laundry baskets one piece at a time, beginning with the top of the pile.
Claudette Francis, 53, is a mother of four and proud member of the U.S. Army. She's dedicated her life to help protect the country, so it should come as no surprise she's the kind of person who takes extra precautions to help keep her family safe — including having an active OnStar service plan.
The Francis family has moved all around the country; such is life in the armed forces. Two years ago, they moved to San Antonio into a house in a newly constructed neighborhood. New homes come with the promise of being problem free. But Texas is home to 18 species of scorpions. Scorpions love living under fallen branches and old logs, and even on live trees — like the ones that used to exist where the Francis home now stands.
"When they were cutting the trees down, the scorpions had no place to go," Francis says. "So they've been going into our homes."
Francis's 17-year-old daughter was getting ready for school one day and went to fish her school uniform out of a basket of clean clothes — a cool, dark place.
"At first, she didn't know what happened," Francis says. "It stung her as soon as she stuck her hand in the basket. She was just startled, you know?" Then her daughter saw the scorpion crawl out of the basket.
Francis immediately applied a cold compress and called Emergency Medical Services (EMS). Her daughter's hand continued to swell as the pain intensified, so Francis decided to drive her daughter to the hospital instead of waiting for an ambulance.
Just after they left the house, her daughter started to panic, fearing the worst and wanting immediate medical attention. That's when they pushed the red Emergency button.*
"The young lady we spoke with was outstanding," says Francis of the Advisor. "She sent EMS to our location and also made sure the Fort Sam Houston Military Medical Center knew we were on our way to them and that my daughter was stung by a scorpion. She stayed on the line with us the whole time."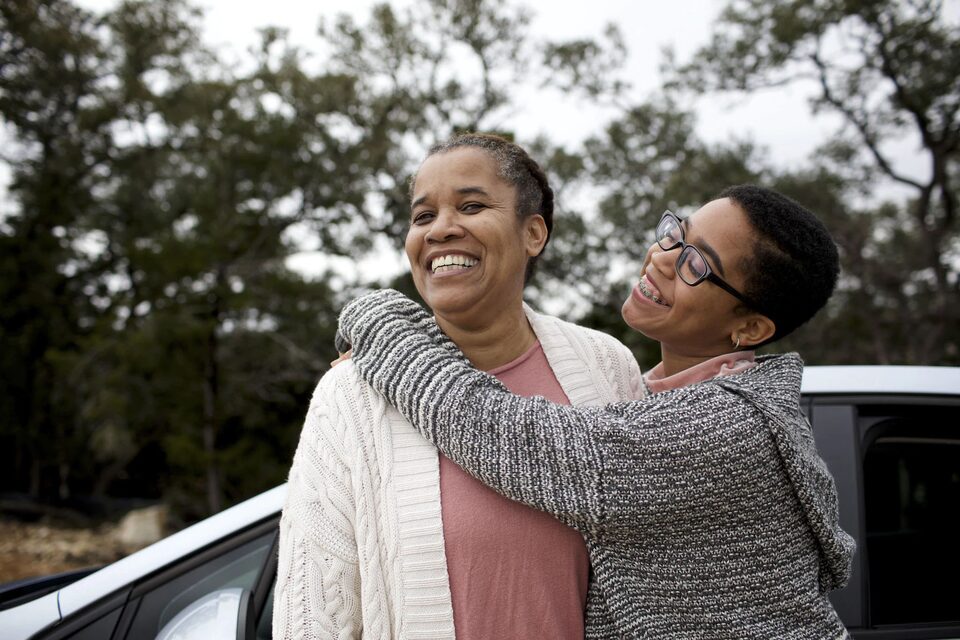 Member Claudette Francis and her daughter are grateful for OnStar.

Francis says, more than anything, in that frightening and flustered moment, OnStar helped bring calm and clarity to an otherwise chaotic situation.
"OnStar was just so amazing that day," Francis says. "So amazing. I can't say enough about them."
As for her daughter, the swelling was almost completely gone by the time they reached the hospital, and they were soon headed back home. Her hand is fine. But her psyche might be a little scarred.
"She's definitely afraid of scorpions now," Francis says. "Actually, the exterminator came out to our house the very same day she was stung — he caught 12 scorpions!"
Yikes. Remember those three rules. And, when in doubt, just push your red Emergency button.