Make sure you and your car are ready for what this winter brings. 

This winter, temperatures are expected to rise and fall time and time again, which may make you feel like you're on a polar coaster that you can't get off.
With this kind of weather expected, there's a higher chance of problems on the roads. This includes a flat tire caused by a pothole you couldn't dodge or spinning out on black ice. Even if you live somewhere that is not affected by snow, it's important you and your vehicle are always ready.
Here are some tips to prepare you and your vehicle for the polar coaster:
To avoid a breakdown in the freezing cold, take your car to the dealership to make sure all the crucial systems are working properly and the engine's fluids are topped off, including the radiator coolant. While you're at it, have your lights checked as well so drivers can see you clearly on the roads. And check the tire pressure

*

 weekly, either with a traditional tire pressure gauge or through your vehicle mobile app

*

 (requires paid Connected Services Plan

*

; also available with the Connected Vehicle Plan

*

and Premium Plan

*

). When temperatures fall, your tires can lose air pressure.
Speaking of tires, check their condition to make sure the tread is in good shape and has enough grip for slippery winter roads.
For more assistance with staying on top of maintenance needs, OnStar can help by providing regular updates. Push the blue OnStar button any time and ask an Advisor to run a free On-Demand Diagnostics check

*

on your vehicle. You can also enroll in monthly Vehicle Diagnostics

*

reports to receive updates on your car's vital systems.
Get new windshield wipers, and if you live in a cold-weather state, refill the wiper fluid reservoir with de-icer fluid.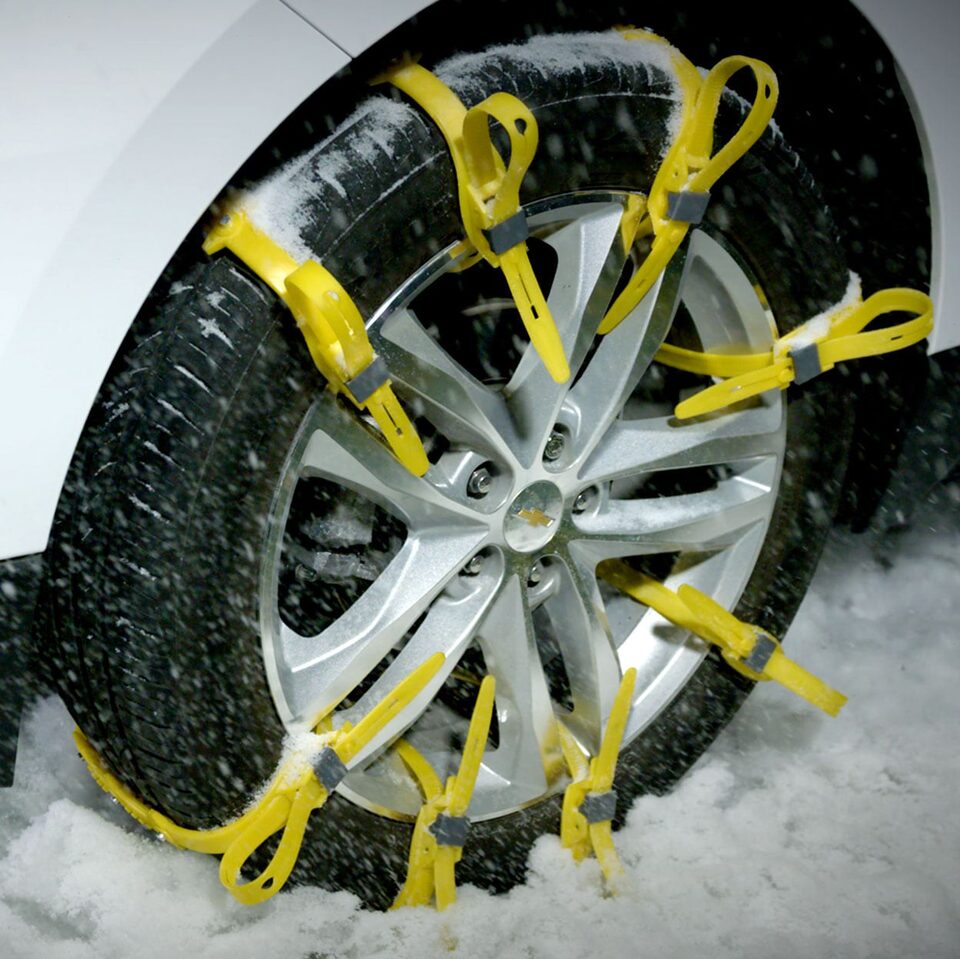 Drive a vehicle equipped with an available built-in WiFi® Hotspot.

*

 You can turn your vehicle into a mobile hub where you or your passengers can stay connected via phone, tablet or laptop if you're stranded far from home or the office.
Using your vehicle mobile app,

*

you can remotely start

*

 your properly equipped vehicle from the comfort of your bed so you have a warm, toasty cabin to get into once you're ready to hit the road. Or, with an Amazon Alexa

*

 or Google Assistant

*

 (requires paid Connected Services Plan; also available with the Connected Vehicle Plan and Premium Plan), you can also start, stop, lock and unlock your car. Additionally, the Vehicle Status feature within your vehicle mobile app allows you to easily check your vehicle's fuel level, range and efficiency; tire pressure (if properly equipped); and oil life.
Keep winter survival provisions in your vehicle, including a first-aid kit, LED road flares, extra clothing, a tow rope, a shovel, a space blanket, a windshield scraper and more.
Put the OnStar number (1.888.4ONSTAR or 1.888.466.7827) in your phone so you'll always be prepared in case you lock your keys in your car or need other assistance when you're not inside your vehicle.

Once you hit the road this winter, OnStar can help get you safely to your destination.
With Roadside Assistance,

*

an Advisor can connect you with local services to help if the unexpected happens. For instance, an Advisor can send the nearest service provider to help fix a flat tire, bring you gas if you run out or jump-start your car. While you're waiting for help to arrive, stay in your vehicle and use LED flares to make yourself visible to other drivers. Run your engine for heat, but first clear all snow and ice from around the exhaust to reduce the risk of carbon monoxide poisoning. Roadside Assistance is also available right from your vehicle mobile app

*

or infotainment system. Learn more about how to get Roadside Assistance.
Black ice, sleet and snow cause crashes, which can block roads — sometimes for hours. Don't get stuck in a closure or backup. Turn-by-Turn Navigation

*

 can help you with an alternate route to get around the crash and to your destination.
If you are in an emergency, an Emergency Advisor

*

 can pinpoint your exact location. The Advisor can also send for help and offer medical assistance if you need it. If you are ever caught in a winter storm or crisis situation, an Advisor can provide special routing and resources.

*

Not only can OnStar help you, but you can also request help for others. Push the red Emergency button

*

to report a crash or other emergency or if you see someone who needs assistance on the side of the road. Learn more about how OnStar Members can act as Good Samaritans.